At KJE Landscape Maintenance, we are working diligently to set our company apart by providing excellent services for our clients. The relationship with our clients is paramount to our success and communication is the key to developing and maintaining that relationship. As the owner, I am on the property weekly to supervise the work of our crews and to note any problems or concerns that may need to be taken care of. I personally respond to any concerns or questions the board or property manager may have.
---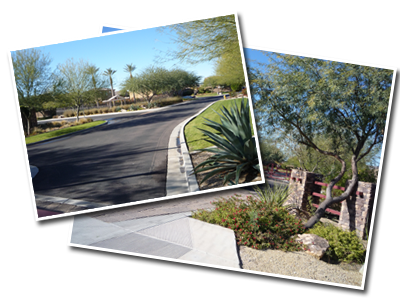 KJE Landscape Maintenance is a socially responsible company; in fact, 10% of our monthly profits go back to the community. We currently provide funding for Toukoul, an orphange in Ethiopia, and Paz De Cristo, a homeless outreach center in the East Valley.
HOME | SERVICES | CONTACT US
As a client of KJE Landscape Maintenance, you can expect the following:
To be treated at all times with courtesy, respect, and professionalism from all of our associates.
To have your work completed timely and within the parameters of the contract.
To have your phone calls returned promptly and your questions answered clearly and to your satisfaction,
whether during business hours or in an after-hours emergency situation.
To understand the contract parameters and the fee arrangement before work begins.
To be charged fees that are fair and consistent with the volume, value, and complexity of the work
performed, as well as within market standards in our industry.
To make myself available to attend board meetings and landscape committee meetings when requested.
---
Services
• Landscape Maintenance for home owner associations, commericial properties, and residential homes.
• Landscape design and installation for residential properties